Philosophy
Company philosophy
Safeguarding animal life,
as if it were human life
To build relationships founded on mutual understanding with customers,
Fujita Pharmaceutical Co., Ltd. develops and supplies safe,
high-quality products that play a useful role for customers.
By discovering problems and devising and implementing solutions,
we foster the development of human resources that can bring innovation to our operations.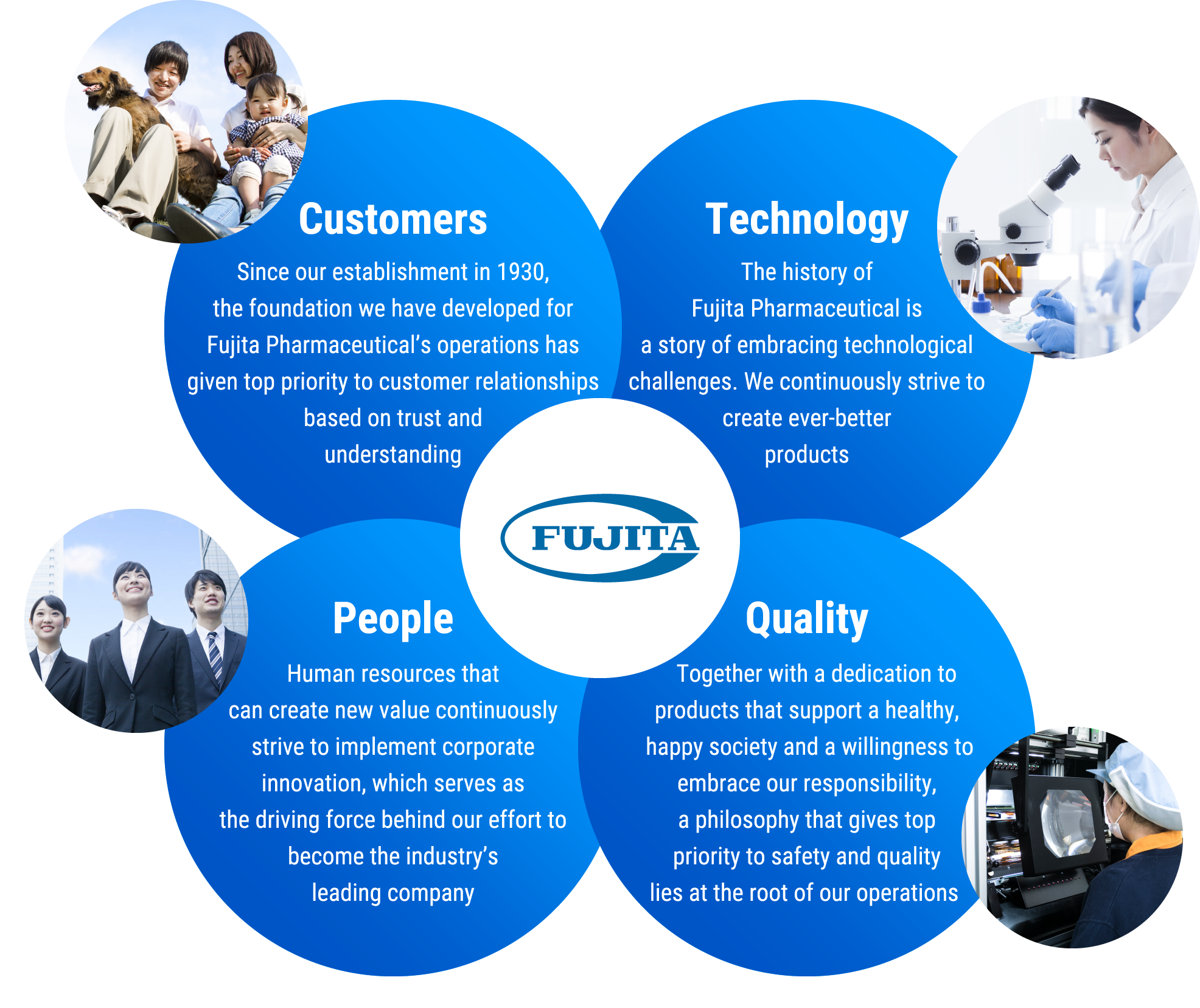 Motto
Customers are the foundation of the company.
The basis of the "quality first" philosophy is
creativity, hard work, and cooperation.
Don't assume that conventional methods are
the best approach.
Fujita's three principles
1

Valuing our core business

Over our many years of operations,
we've come to value a business that revolves around the domains of veterinary-use pharmaceutical development,
manufacturing, and sales.

2

Valuing the ability to execute effectively

We value the ability not only to discover problems and propose solutions,
but also to put those solutions into practice.

3

Better skills means higher pay.

We focus on developing employees' skills and provide appropriate
compensation along with skill growth.
Outline
Name
Fujita Pharmaceutical Co., Ltd.
Founded
January 1930
Representative
TABATA MITSURU
CEO
Businesses
Manufacture, import, and sale of veterinary-use pharmaceuticals

,

quasi-drugs

,

feed and feed additives
Import and sale of veterinary-use medical devices
Sale of physics and chemistry equipment and dairy farming equipment
Facilities
Banks of account
Mizuho Bank, Ltd. MUFG Bank, Ltd. Sumitomo Mitsui Banking Corporation
Affiliates

Sasaeah Pharmaceutical Co., Ltd.

4th floor, Fujita Building, 2-13-2 Kamiosaki, Shinagawa-ku, Tokyo

141-0021

Phone: 03-5488-8808 Fax: 03-3441-3030

---

Kyoto Biken Laboratories, Inc.

16 Nijushi, Makishimacho, Uji-shi, Kyoto Prefecture

611-0041

Phone: 0774-22-4518 Fax: 0774-24-1407

Kyoto Biken Hanoi Laboratories, Co., Ltd.
Plot F6, Thang Long II Industrial Park, Yen My district,
Hung Yen province, Vietnam

---

Sun Farm Co., Ltd.
Located at Fujita Pharmaceutical Co., Ltd.
141-0021
2-13-2 Kamiosaki, Shinagawa-ku, Tokyo
TEL:03-5447-2191 FAX:03-3447-0612